Instagram Analytics and Reports
We offer daily, weekly or monthly Instagram Analytics Report to help your Instagram Marketing.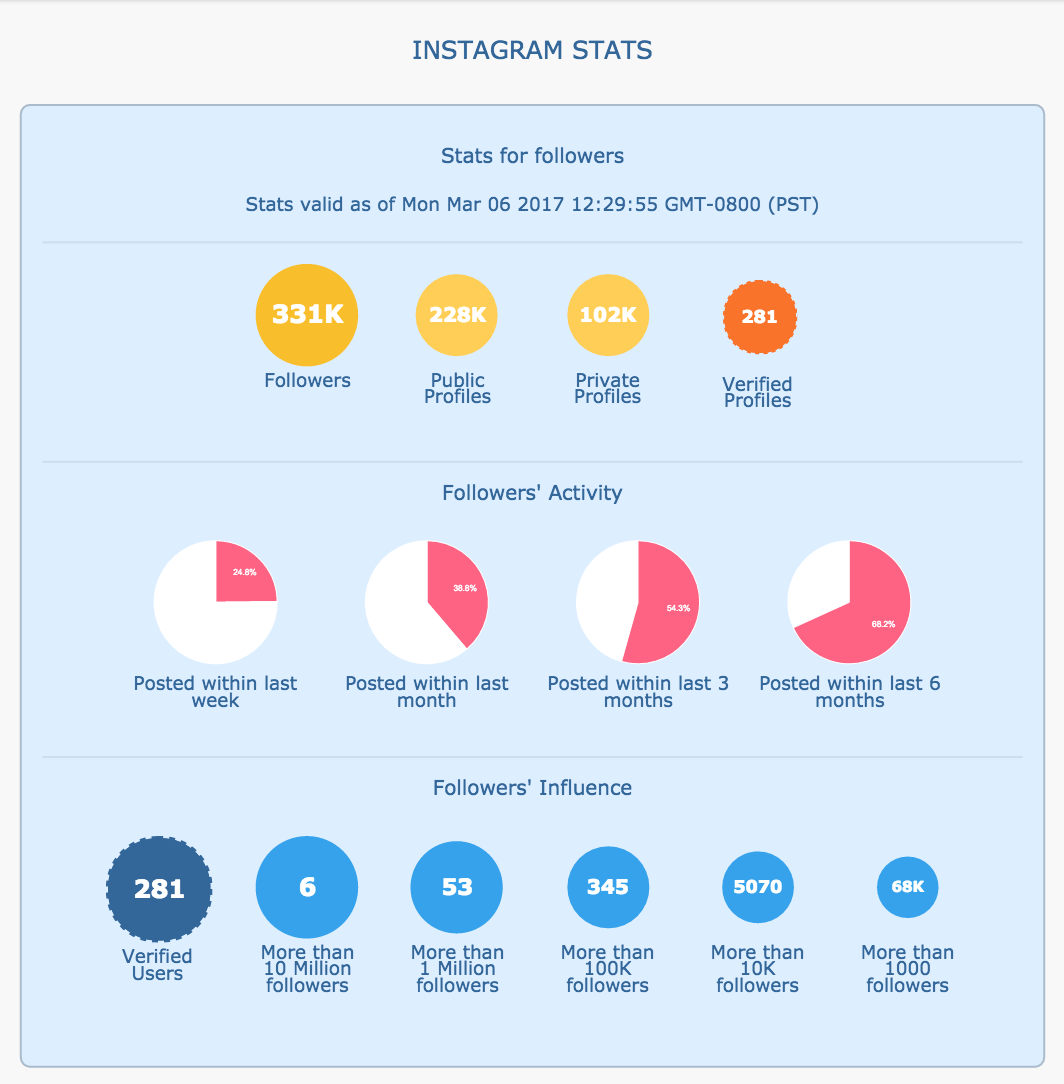 Below are Instagram Analytics Reports we offer:



Follower Analytics
New Followers, Lost Followers, Follow Back Ratio


Hashtag Analytics
Top Hashtag posts, influencers and new hashtag posts


Post Engagement Report
Top Likers and Commenters, New Likers


What kind of analytics reports are available?
How it works?
Select Report:
Enter username/hashtag
Confirm and make payment
Wait for weekly email
Email info@picodash.com with any question
Pricing
Monthly Price for analytics (4 reports)
Less than 10,000 followers
$100
Less than 50,000 followers
$250
Less than 100,000 followers
$500
Email us for exporting more than the above limits.
Frequently Asked Questions
What is included in the analytics reports?
You will receive a PDF file and an image file with stats/analytics for every report ordered, the image can be used to directly include in a presentation or document. Along with the analytics, you will also receive all the raw data in spreadsheet that was exported to calculate the stats.
When will I receive the analytics reports?
You will receive the analytics reports on Monday of every week when a weekly analytics report is ordered.
Can I order analytics reports for more than a month?
You can only order weekly analytics report for one month (4 reports) at a time directly, if you want to order for more than a month, please email info@picodash.com, we will send a link to pay and order for more than a month.
What can I do with the analytics report and data?
The analytics reports will give you weekly growth performance of an Instagram account or hashtag, Social Media Managers can use the report to include in presentations, the data can be used to grow your Instagram followers.

For example, the Follower Analytics can be used to engage with new followers by liking or commenting on their posts, find influencers in your followers and more. With the Hashtag report, you can find the most active users for the hashtag, you can also find the top influencers for the hashtag based on the likes received.
NOTE: The exported data is for research or analysis purpose. It is not recommended to repost media that does not belong to you, instead you are encouraged to use the embed code to repost Instagram posts elsewhere, this will give full credit and attribution to the Instagram content's owner.